We offer complete car care service from routine dealer recommended maintenance to complete diagnostics and full service auto repair. We know that our reputation is built "one customer at a time" and we appreciate your business.

Tuffy Tire & Auto Center (Maple Rd.) - Omaha, Nebraska

We specialize in preventative maintenance services (oil change, tire rotation, etc.) and we have highly qualified technicians for muffler and brake services, exhaust systems, internal engine repair services, electronic services, transmission work, and heating and cooling repair. Our shop services domestic and imported cars, trucks, and SUVs.
Trusted hometown mechanics.
Since 1970, Tuffy Tire & Auto Service has been committed to treating our customers with honesty, respect and professionalism. Our philosophy is to provide quality parts and service at an exceptional value. We recognize that satisfied customers are the foundation of our business and that our future success is determined by how well we exceed our customer's expectations today!
Done Right. Period.
That's how we do things at Tuffy® Tire & Auto Service Center. That's why only Tuffy offers a 2-year/24,000-mile guarantee on parts and labor you can take to any store. Plus, we offer a courtesy inspection with every Tuffy purchase. It covers tires, brakes, fluids, exhaust system, battery, belts and more. With every purchase, we even give you 24 free months of roadside assistance, too. We call it ToYourRESCUE®. Our work will be DONE RIGHT. PERIOD. Or we'll fix it for free. Now that's what you call Tuffy totally having your back.
Our full service tire and auto service centers service all makes and models, foreign and domestic, cars and trucks. Our highly qualified technicians specialize in providing quality auto repair services including; brake repair, fluid service, transmission repair, suspension service, engine service, exhaust repair, oil changes, air conditioning repair, wheel alignments, preventative maintenance and much more.
Need to schedule a service appointment for your vehicle? Save time and schedule an appointment with us online. It's simply, click on "Book Appointment" and schedule your appointment. We'll contact you via email to confirm the day and time of your appointment.
Call us today for a repair or an estimate!
402-289-3900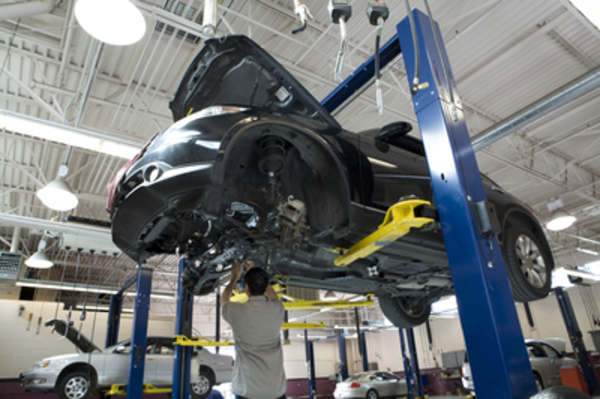 From around the Web
Tuffy Reviews
"Just wanted to show my appreciation for Joe. Had a flat tire this morning that was stuck on the rim. Joe showed up 15 min before open and helped me before even opening the shop."

Ryan R

Nov 03, 2021 – Omaha, NE
"I worked with the Robert and staff to fix my wife's car. His team went above and beyond the call of duty. They were very helpful, informative, and efficient. I will definitely be back with any future needs as well as recommend friends and family of the great work these guys do!! "

Corey Steen

Aug 26, 2020 – Omaha, NE
"Super great service, very friendly and most important, honest and fair. I highly recommend them!"

Lori K

Apr 15, 2020 – , NE
"I visited July 3rd and was very impressed with the service. Kenny was very helpful and I was in and out quickly. Will recommend to all my friends."

Terry R

Jul 04, 2017 – Omaha, NE
"Friendly, trustworthy, fast + reputable! Thank you guys!"

Mary B.

Jul 15, 2016 – Omaha, NE
"Anytime you take your automobile to the mechanic you have to understand that the news may not always be good news. In my experience over several years in dealing with Tuffy's, they don't fix things that don't need fixing and what they do fix, they do so at a fair price. Honest and trustworthy are two traits not often found in the automotive repair industry and exactly why I bring all of my vehicles to Tuffy. "

Brent Q.

May 03, 2016 – Omaha, NE
"Replaced both brake lights promptly and at no charge. I use the Omaha Evans Street location for all service on my Subaru. I have never been disappointed and always treated with the utmost respect. THANK YOU>"

dan trombla

Feb 25, 2016 – Omaha, NE
"Always have excellent service!! Tuffy's goes above and beyond! Very friendly staff. I have and will continue to recommend them to my friends!!"

Mary D

Nov 28, 2014 – Omaha, NE
"I took my car in to have my brakes checked out because they were really loud. The gentlemen at Tuffy's took really good care or me and my car. The problem was worse than I thought but the price I got was more than reasonable and they fixed me up the same day. I would not trust my car with anyone else. "

Tammy W

Mar 26, 2014 – Omaha, NE
Show more